Several skincare desires, such as a glowing face, a clear complexion, and naturally moisturized skin, can occasionally seem impossible. Therefore, choosing the best skin care products is recommended for this reason. Considering beginners, using aloe vera gel for daily skincare requirements makes a lot of sense.
If you like this post, check out the following article about alternatives to loofah too.

Your skin is an essential part of your body that is frequently exposed to sun, heat, and pollution. Therefore, it deserves a little extra care. Just like every good habit in your life, skin care should also be started early. Starting early and being consistent will allow you to have radiant and lovely skin at all ages.
If you are unsure where to begin or looking for one basic product to set your skincare routine, you can never choose a natural aloe vera gel. Yet, this modest therapeutic plant has been important in skincare for ages. So let us read further to understand why it is so important for your skin.
What is aloe vera?
The aloe vera plant belongs to the family of cacti. The plant is known for its medicinal and beauty properties. Aloe vera is derived as a gel-like transparent liquid from the inner part of the plant leaf. The aloe gel contains more than 96% water. The extract is thus moisturizing and possesses skin-healing properties.
Aloe vera is made from the extract and hence it packs the benefits of the plant. It contains amino acids, antioxidants, and a myriad of vitamins. These include vitamins A, B, C, and E. Let us understand how these components keep your skin glowing and healthy.
Why is aloe vera good for your skin?
As a beginner, you may not know the benefits of including aloe vera in your skincare routine. But here are a few benefits that may give you the nudge you need.
Fights acne: Aloe vera is packed with anti-inflammatory and antibacterial properties. This helps to reduce and control the growth of acne-causing bacteria on your skin. In addition, including the gel in your skincare routine daily will help reduce acne.
Prevents premature aging: Studies have proven that gel supplements restore the radiance and moisture of the skin. It has also been known to work towards decreasing the appearance of wrinkles. The gel enhances the elasticity of the skin, and its properties work to reduce fine lines and wrinkles. Skin repair by daily gel usage may even prevent premature aging signs.
Moisturizes skin: The moisturizing property of the aloe vera gel comes from its high-water content formulation. When applied as a moisturizer in your skincare routine, it works without leaving a greasy residue on the skin. Instead, the gel softens the skin and unclogs the pores making it a perfect lightweight moisturizer.
Lightens blemishes: Daily application of gel is known to repair your skin. It may even restore the lost smoothness from over the years. The gel also works to decrease pigmentation and blemishes on your skin.
Reduces irritation: Aloe vera has inherent cooling properties, which help soothe any irritation or redness on the skin. As a result, it works wonders in relieving irritation and redness. In addition, the gel's minerals and antioxidants amplify the skin's healing process.
3 Ways to Incorporate Aloe Vera Gel in Your Skincare Regime!
Aloe vera can be applied directly on the face and neck in an upward, circular motion. Let us also introduce you to some beginner-friendly DIY skincare tips that you can incorporate: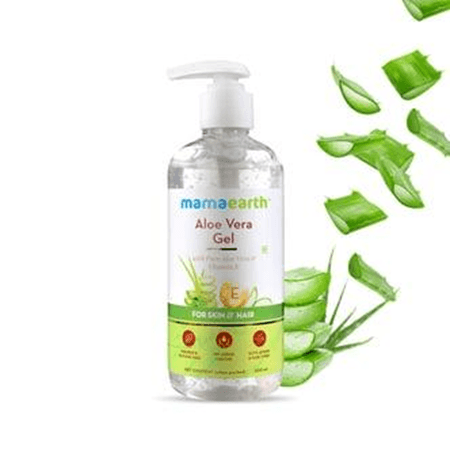 For exfoliation: You can mix two tablespoons of gel with sea salt and honey. Combine the mixture well. Use it as a mild scrub to exfoliate the face and body. Wash it with warm water.
To treat acne spots: Mix two tablespoons of rose water and one tablespoon of honey with one tablespoon of gel. The paste can be applied as a mask and left on the face for 10 to 20 minutes.
For use as an eye mask: Want to address fine lines and wrinkles? Take a vitamin E capsule and empty its content in a tablespoon. Mix it well with a natural and safe aloe vera. This paste should also be applied to the area around the eyes.
You can leave it overnight to see the result. An easy option is you can opt for Mamaearth Aloe Vera Gel for Skin and Hair. The gel packs the benefits of vitamin E and glycerin.
Who can use it?
Aloe vera can be used by anyone above the age of 15 years. Both men and women can add Mamaearth's Aloe Vera Gel for Skin and Hair in their skincare routine as it is suitable for all skin types. In addition, it protects and nourishes your skin and is dermatologically tested.
It is free from harmful toxins or parabens. Use this all-purpose gel for smooth, moisturized, and supple skin. Start by applying a small amount of gel on one section of your face and wait 24 hours to ensure it suits your skin. If nothing is amiss, enjoy the goodness of aloe vera.
Include Aloe Vera Gel in your Bridal Makeup Kit!
Apart from the beginners' skincare regime, aloe vera is a boon for the bridal beauty regime. Even very little use of the gel before the wedding can give the bride's skin the required love and care. The bridal makeup kit is just what you need to flaunt the luminous skin and add to the beauty. The kit comprises foundation, lipsticks, compacts, and concealer to provide a perfect base for your makeup.
To enhance your beauty, include Mamaearth Charcoal Black Stay Kajal in the kit and highlight those beautiful eyes. You also need to ensure that your lips look nourished. For that, you should use natural lip serum and lip balms. Then, top it up with the Mamaearth Matte Long Stay Lipstick you choose to make them look fuller. Mamaearth has many beauty and skincare products to help prepare your bridal makeup kit.
Summing it up!
Whether it is skincare for beginners or pre-wedding care for the brides, aloe vera is one solution for healthy skin. If you want to enhance your skin with natural products that are toxin free and have zero-harmful chemicals, Mamaearth has just the right products.
You can rely on their extensive expert-researched product range for skincare on all skin types. The products are cruelty-free and Asia's first brand to attain the 'Made Safe Certification.' So you can be assured of the products' worth and effectiveness. Happy Skincare!
Also, Read: Fix This Error: errordomain=nscocoaerrordomain&errormessage=kunne ikke finde den anførte genvej.&errorcode=4